Comme chaque année, le principal syndicat des acteurs américains (SAG) récompense les comédiens qui se sont distingués ces derniers mois au cinéma et à la télévision. Découvrez les heureux élus qui s'affronteront en janvier pour décrocher la précieuse statuette…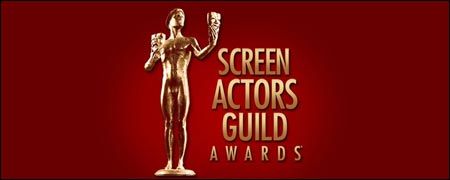 La 18ème édition des Screen Actors Guild Awards se prépare et la liste des artistes en compétition est désormais connue. Ken Howard, le Président du célèbre syndicat des acteurs, s'est entouré de Judy Greer et Regina King pour dévoiler les noms des comédiens en lice cette année. Les nommés ont été sélectionnés par leurs pairs, soit un jury composé d'acteurs appartenant à la Guilde. Les favoris sont Modern Family, avec un total de 5 nominations, dont celle du Meilleur ensemble d'acteurs dans une série comique. Suivent Dexter et 30 Rock avec 3 nominations chacune. Côté surprises, Patrick J. Adams, l'interprète du jeune avocat sans diplôme de Suits (USA Network), est nommé dans la catégorie du Meilleur acteur dans une série dramatique face à des grandes pointures telles que Bryan Cranston, Michael C. Hall, Steve Buscemi et Kyle Chandler. On regrettera parmi les grands absent de cette sélection Sons of Anarchy, Homeland, Parks And Recreation et Community. Enfin, un Life Achievement Award sera remis en hommage à Mary Tyler Moore pour l'ensemble de sa carrière.
La cérémonie de remise des prix se déroulera à Los Angeles le dimanche 29 janvier 2012 et sera retransmise sur les chaînes TNT et PBS.
Sont nommés pour la télévision :
Meilleur ensemble d'acteurs dans une série dramatique
Dexter (Showtime)
Breaking Bad (AMC)
Boardwalk Empire (HBO)
The Good Wife (CBS)
Le Trône de fer : Game of Thrones (HBO)
Meilleur ensemble d'acteurs dans une série comique
The Office (NBC)
30 Rock (NBC)
The Big Bang Theory (CBS)
Glee (Fox)
Modern Family (ABC)
Meilleur acteur dans une série dramatique
Steve Buscemi ( Boardwalk Empire )
Bryan Cranston ( Breaking Bad )
Michael C. Hall ( Dexter )
Kyle Chandler ( Friday Night Lights )
Patrick J. Adams ( Suits )
Meilleure actrice dans une série dramatique
Glenn Close ( Damages )
Kathy Bates ( Harry's Law )
Kyra Sedgwick (The Closer )
Julianna Margulies ( The Good Wife )
Jessica Lange (American Horror Story )
Meilleur acteur dans une série comique
Alec Baldwin ( 30 Rock )
Jon Cryer ( Mon oncle Charlie )
Eric Stonestreet ( Modern Family )
Steve Carell ( The Office )
Ty Burrell ( Modern Family )
Meilleure actrice dans une série comique
Edie Falco ( Nurse Jackie )
Betty White ( Hot in Cleveland )
Julie Bowen ( Modern Family )
Sofia Vergara ( Modern Family )
Tina Fey ( 30 Rock )
Meilleur acteur dans une mini-série ou un téléfilm
Greg Kinnear ( Les Kennedy )
James Woods ( Too Big to Fail )
Laurence Fishburne ( Thurgood )
Guy Pearce ( Mildred Pierce )
Paul Giamatti ( Too Big to Fail )
Meilleure Performance de Cascadeurs dans une série
Dexter (Showtime)
True Blood (HBO)
Southland (TNT)
Le Trône de fer : Game of Thrones (HBO)
Spartacus : Les dieux de l'arène (Starz)